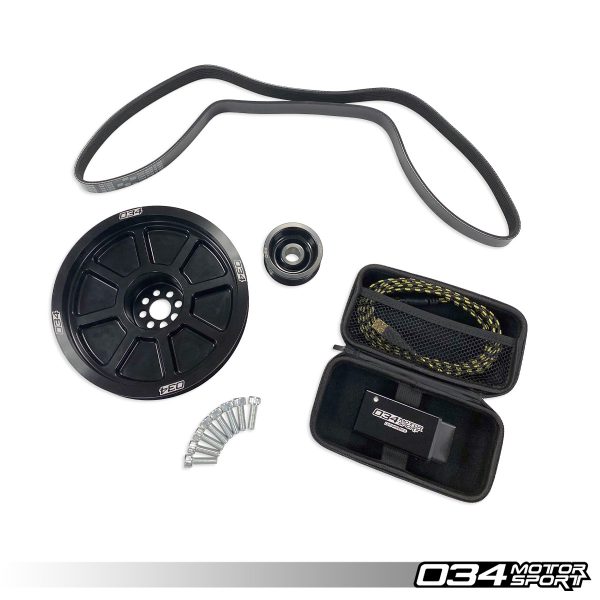 Product Description:
Looking to maximize the performance of the Supercharged 3.0T Audi S4/S5/SQ5? Look no further. Get up to 540HP and 491FT-LBS of torque with the 034Motorsport Dual Pulley Performance Package! Included is everything needed to go from stock, to a Stage 2+ tuned, dual pulley upgraded beast!
What's Included:
Stage 2+ ECU Tuning:

034Motorsport Dynamic+ Stage 2+ Performance Software for the Audi B8 S4/S5/Q5/SQ5, C7 A6/A7, and D4 A8 3.0 TFSI is engineered to further increase horsepower and torque output over Stage 2 levels with the addition of 034Motorsport's 190mm Lower Pulley in addition to our upper pulley. The Supercharger Pulley Upgrade allows for increased boost pressure from the factory Eaton TVS1320 Supercharger throughout the powerband, while 034Motorsport's proprietary calibrations safely yield additional power from the 3.0 TFSI engine
Stage 2+ Performance Software features a higher redline of 7,400 RPM, resulting in a broader powerband and greater peak horsepower figures than available with the factory 6,400-7,000 RPM maximum engine speed (Stock RPM limit is dependent on B8 or B8.5 generation). In addition to power improvements, 034Motorsport's engineers spent a significant amount of time refining the throttle mapping in both Dynamic and Comfort modes to provide improved throttle response and allow for more precise throttle modulation. Stage 2+ Performance Software also enables left-foot braking, which allows for further control of the vehicle when driving on track.
Advanced Launch Control:

Once again, 034Motorsport has pushed the boundaries of what is possible for the 3.0T Supercharged engines found in many Audi's through our Dynamic+ tuning! After extensive development and refinement by our world-class tuning team, all existing and future 034Motorsport tuning customers will have access to all-new Advanced Launch Control programs.
These features allow you to customize your desired launch RPM on the fly via your cruise control stalk, and run the intercooler pumps and engine fans at full speed below 10kph to allow for full cooling during staging prior to drag racing. This provides a large advantage over factory launching protocols as it results in the coolest possible IATs, and allows the driver to adjust their launch settings to be the most optimal for their conditions.
DSG Software Upgrade:
Flashed directly through your vehicle's OBD-II port, 034Motorsport's proprietary calibrations for the DL501 TCU safely and effectively raise the factory transmission's RPM limiter, increasing the available powerband and allowing your car to make use of Stage 1/2 Performance Software. 034Motorsport Performance DSG Software also increases the shift speed and optimizes the shift points in Drive and Sport modes for better performance and driveability. The result is a noticeable improvement in acceleration, without any sacrifice in comfort or reliability.
034Motorsport's DL501 Performance Software was developed entirely in-house on 034Motorsport's Development B8 Audi S4. The calibrations were then refined on multiple enthusiast-owned B8/B8.5 Audi S4/S5 vehicles before release.
Features:
Raised RPM Limit for Use with Stage 1/2 Performance Software
Optimized Shift Points in Drive & Sport Mode
Increased Shift Speed
Manual Mode Auto Downshift Disabled
User-Selectable 4-Step Launch Control (3,000 RPM, 3,500 RPM, 4,500 RPM, 5,000 RPM)
Raised Launch Control Counter Limit (From Factory 200)
Flashed Directly Via the Factory OBD-II Port - No TCU Removal Needed!
Dynamic+ End User Flashing Kit:
034Motorsport's Dynamic+ End User Flashing Kit allows customers to install their 034Motorsport Dynamic+ Performance Software themselves. In addition, End User Flashing allows Dynamic+ Performance Software customers to receive and install software updates and revisions, flash back to stock, or upgrade to the next stage of performance software for their vehicle.
Requirements for End User Flashing:
Windows 10 Laptop with Available USB Port
Power Supply for Laptop
Secure Wired (Or Very Stable WiFi) High-Speed Internet Connection
CTEK Trickle Charger (Or Similar)
Available Electrical Outlets
Supercharger Pulley Upgrade:
At 57.70mm in diameter, the 034Motorsport 3.0 TFSI Supercharger Pulley is significantly smaller than the factory unit in order to increase the drive ratio of the supercharger. Spinning the supercharger faster yields increased boost pressure throughout the RPM range, resulting in increased horsepower and torque throughout the powerband when paired with 034Motorsport Stage 2+ Performance Software.
190mm Crank Pulley Upgrade:
The 034Motorsport 3.0 TFSI Supercharger 190mm Crank Pulley Upgrade for the Audi B8/B8.5 S4/S5/Q5/SQ5, C7 A6/A7, and D4 A8 is an easy way to increase supercharger rotational speed to provide more boost to your engine. This kit works with both the OEM supercharger pulley and the 034Motorsport 3.0 TFSI Supercharger Pulley Upgrade.
The 034Motorsport 3.0 TFSI Supercharger 190mm Crank Pulley Upgrade is machined from a single piece of 6061-T6 billet aluminum, and black anodized for an attractive finish resistant to corrosion. This design is 62% lighter than the OE pulley, significantly reducing rotational weight and parasitic loss. This is a single piece inner and outer pulley, not a pulley "overlay", which adds rotational weight.
Features:
Machined from a Single Piece of 6061-T6 Billet Aluminum
Black Anodized with Laser Engraving for a Durable Finish
Reduced Parasitic Loss - 62% Lighter than Stock
Complete Inner and Outer Pulley, Not Just a Pulley "Overlay", Which Adds Weight