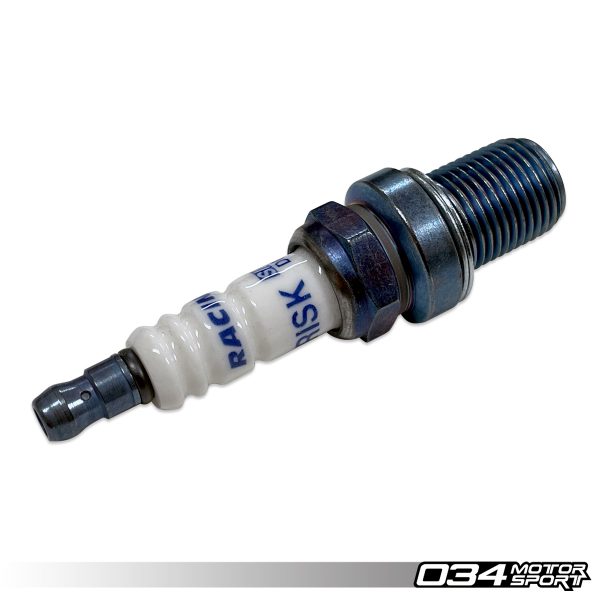 Product Description:

The Brisk Racing Silver Spark Plugs are high-performance spark plugs that are ideal for cars with performance software upgrades and/or turbocharger upgrade kits running increased boost pressure. These long-life silver spark plugs will outlast and outperform the factory spark plugs and are a recommended performance upgrade for many high-performance Audi and VW setups.
Silver spark plug electrodes transfer electricity & heat better than any other spark plug material resulting in consistent peak spark performance required to propagate efficient combustion! This is beneficial for a full complete combustion of the available fuel and air in the combustion chamber, combustion efficiency creates horsepower gains.
Features:
Superior ignition ability increases engine power allowing detonation resistance in high power applications
Cooler heat range for some applications allowing detonation resistance in high power applications
Good resistance to fouling and easier starts
1.5 mm silver fine wire center electrode
Low ignition voltage requirements (easier for spark to jump over)
Reduces stress and wear on your coil and other ignition components
Fires properly even if partially fouled, where standard plugs will fail
Brisk Racing ER10S Silver Spark Plug
Price: $10.95
Applications:
Upgrades - These plugs are one to two steps colder versus OEM - one step colder is typically recommended for Stage 2 tunes and higher:

Stage 1 & 2 or Hybrid/ Big Turbo Audi 8S TTRS & 8V.5 RS3 2.5 TFSI
Stage 1 & 2 or Hybrid/ Big Turbo Audi 8J TTRS
Audi 4.0t Stage 1 & 2 or Hybrid Turbo Builds
Two Steps Colder - Big Turbo/Big Hybrid EA888 Gen3 2.0 (R/GTI/S3/A3)/1.8T(alltrack)
Applications:
OEM+ Replacement

Audi C7 S6/S7/RS7 4.0t Stock Replacement
Stock Audi 8S TTRS & 8V.5 RS3 2.5 TFSI
Stock Audi 8J TTRS 2.5T

Upgrades - These plugs are one step colder versus OEM - one step colder is typically recommended for Stage 2 tunes and higher:

Stage 1 & 2 Volkswagen GTI & Golf R MkVII
Stage 1 & 2 Volkswagen Alltrack EA888.3 1.8T
Stage 1 & 2 Audi 8S TT/TTS 2.0t
Stage 1 & 2 Audi 8V/8V.5 A3/S3
Stage 1 & 2 Audi B9 A4 2.0t
Applications:
OEM+ Replacement:

Stock to Stage 1 Audi B8/8.5 S4/5
Stock to Stage 1 Audi C7 A6/A7 3.0t

Upgrades - These plugs are one step colder versus OEM - one step colder is typically recommended for Stage 2 tunes and higher:

Stage 2 Audi B8/8.5 A4/A5 2.0t
Stage 2 Volkswagen GTI/R MkVI
Stage 2 & 2+ Volkswagen GTI MkV
Stage 2 & 2+ Audi 8J TT/TTS
Vintage 5-Cylinder (AAN/3B/7A) - ~above 350hp but below 500
5V 1.8t - ~above 300hp but below 450
2.7tt - ~above 400hp but below 550
Applications:
Upgrades - These plugs are one to two steps colder versus OEM - one step colder is typically recommended for Stage 2 tunes and higher:

Audi B8/8.5 S4/S5 with Upgraded Pulleys
Audi B8 Q5/SQ5 with Upgraded Pulleys
Audi C7 A6/A7 with Upgraded Pulleys
Two Steps Colder - Vintage 5-Cylinder (AAN/3B/7A) High Horsepower Builds ~Above 500hp
Two Steps Colder - 5V 1.8t High Horsepower Builds ~Above 450hp
Two Steps Colder - 2.7tt High Horsepower Builds ~Above 550hp