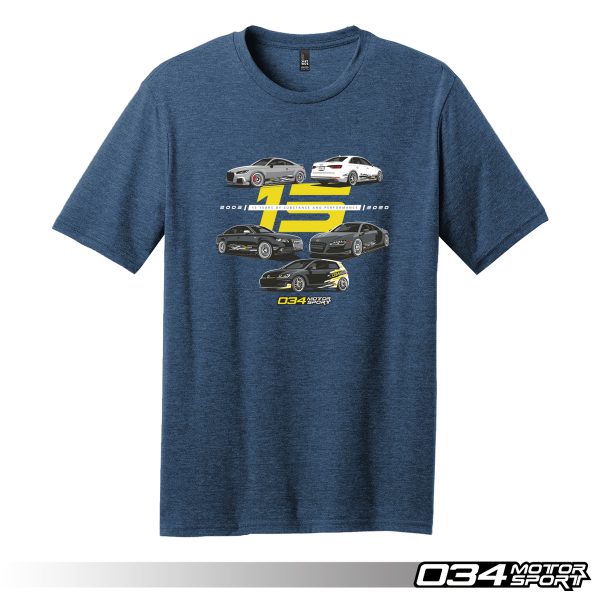 Product Description:
This shirt celebrates 034Motorsport's 15-Year Anniversary in 2020! Featuring some of the 034Motorsport Development Cars used to develop our Dynamic+ product line, this is a limited-edition shirt that you don't want to miss out on!
Our 15th Anniversary Commemorative T-Shirt highlights the 15 years of Substance and Performance which 034Motorsport has produced. This shirt features our Audi 8S TTRS, B9 S4, B8 S4, Gen 1.5 R8, and our Mk7 Volkswagen GTI! The right sleeve features the familiar 034 logo, completing the shirt's epic design.
These deep royal fleck shirts are constructed from a 50/50 Cotton/Poly Blend. Available in S/M/L/XL/2XL/3XL.
A message from our CEO & Founder, Javad Shadzi:
"I quit my day job in April 2005 and started doing 034Motorsport full time. It's been not only the most incredible professional experiences I've ever had, but of my life! Seeing my, and ultimately our ideas come to life, making cars go faster and more fun to drive and seeing our customers enjoy these products and putting them to work has been incredibly fulfilling. In addition to the products, I'm incredibly proud of the people who have made it all happen. 034Motorsport's staff are truly a world-class team of talented and passionate people who take the work seriously and take great pride in the incredible things they do.
At our 10-year anniversary, we decided that featuring the company's project cars would be a neat way to express how far the company had come in 10 years and represent the many things we had accomplished. The shirt has been very popular; I mean who wouldn't want to walk around with all those cool cars on their chest?! So for the 15-year anniversary, I decided to do the same thing, featuring our project cars from the 2015-2020 timeframe. We had the incredible 8380 Laboratories mock up the shirt, Ethan always does a great job for us.
When I saw the mockup, I was shocked... I could see clearly how much we had accomplished and grown in the past 5 years. Our 10-year shirt features mostly project cars and race cars, the high concept builds that featured custom fabrication, tuning, and incredibly high power and performance capabilities, but not so many parts we could offer as products. In contrast, our 15-year shirt featured factory cars with bolt-ons of our highly engineered and developed product line. Seeing both eras so concisely was fascinating, in a moment I mourned the company we used to be but had deep pride in the one we had become. What really struck me as I reflected on this, is that we weren't able to be both. We were that scrappy, stay-up-all-night company racing and doing Time Attack events 24 hours a day, but we had to lose that to truly bring the professional and quality products to market that our customers demanded. It wasn't possible to be both, so we lost all those race car projects and put all the work into our operations, engineering, manufacturing, sourcing, company culture, business development, and financial management efforts.
The result, for example, was a brand new B9 S4 with a full range of products, all bolt-on, all reversible, all world-class quality - and completely transformed in the way it handles, accelerates, and brakes. As I continue to reflect, I relish the opportunity to be both companies over the next 5-years, and much more so than we've been able to be in the past. Thank you to all who have supported us over the past 5-years, we look forward to growing and continuing our search for excellence in everything we do, we hope you wear this shirt with pride."
Javad Shadzi
C.E.O. and Founder
034Motorsport