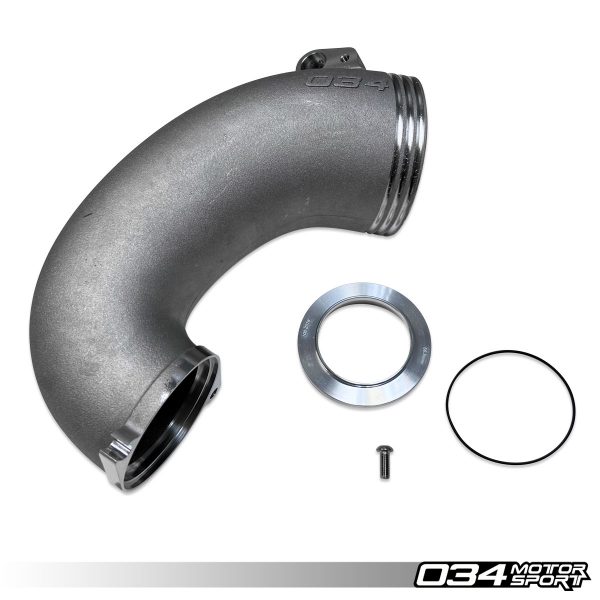 Check out the 4" DAZA Turbo Inlet Pipe
Introductory Pricing: The 034Motorsport 4" Turbo Inlet Pipe will be available at $200 MSRP as a two-week introductory discount through 2/8/22.
PRODUCT DESCRIPTION:
The 034Motorsport 4" Turbo Inlet Pipe for the 2.5 TFSI EVO in the Audi 8S TTRS & 8V.5 RS3 is an essential upgrade to optimize power by eliminating a crucial flow restriction in the intake tract. The 4" Turbo Inlet Pipe is cast from A356 Aluminum and utilizes CNC-Machined 6061-T6 Aluminum Turbo Inlet Adapters that perfectly mate to allow smooth air entry into the compressor housing. This Turbo Inlet Pipe retains provisions for the factory PCV system fitting in the factory location.
The 034Motorsport 4" Turbo Inlet Pipe is designed for use with 4" intakes. The CNC Machined edge retains the inlet hose securely to the inlet pipe. This will not fit Right-Hand Drive vehicles.
FLOW BENCH TESTING:
The optimized volume through the elbow bend and smooth transition into the compressor housing translates into substantially higher airflow than the OEM turbo inlet as well as other competitors on the market. Airflow improvements can lead to higher horsepower and torque gains in applications that require higher airflow.
FEATURES:
Cast from A356 Aluminum
Compressor Inlet Flange Machined for Smooth Airflow Into Compressor Housing

CNC Machined 6061-T6 Aluminum Turbo Inlet Adapter to Match Turbo Inlet for Maximum Airflow

Stock Turbo - 56.5mm
Optional Adapter Ring Available Separately for TTE700 - 62.8mm

Designed to Work with 4" Intake Tubes
38% Increase in Flow at 28" of H2O Over Factory Turbo Inlet

Stock Inlet - 503 CFM
034Motorsport Inlet (Stock Turbo Ring) - 693 CFM
034Motorsport Inlet (62.8mm Ring) - 758 CFM

CNC Machined Edge Retains Intake Coupler Securely
CNC Machined to Retain OE PCV Hose
Proven Power/Torque & Airflow Gains
Direct Bolt-On Installation
OE PART INTERCHANGE:
07K-133-359-G
07k-133-359-H
WHAT'S INCLUDED:
4" Turbo Inlet
Turbo Adapter Ring, with O-Ring - 56.5mm for Stock Turbo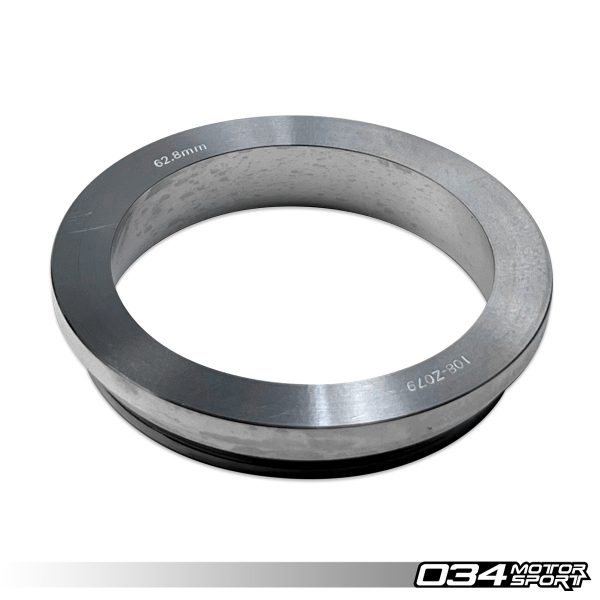 4" Turbo Inlet Pipe Adapter Ring for TTE625 & TTE700
This is a 62.8mm billet aluminum adapter ring designed for use with the 034Motorsport 4" Turbo Inlet Pipe and TTE625 or TTE700 aftermarket turbochargers from The Turbo Engineers. This billet aluminum adapter ring is designed to be a smooth transition between the turbocharger and 4" Turbo Inlet Pipe.
Features:
62.8mm Turbo Inlet Adapter to Match TTE625/700 Turbo for Maximum Airflow - Stock Turbo - 56.5mm
CNC Machined from 6061-T6 Billet Aluminum
Adapter for 034Motorsport 4" Turbo Inlet (034-108-5021)
Includes O-ring to Seal Adapter to Inlet
Easy, Direct Swap Installation