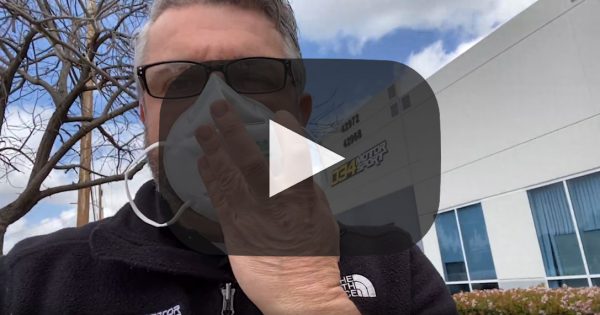 A message from our CEO, Javad Shadzi
After our post yesterday, we received disturbingly high amounts of messages from healthcare workers across the country in dire need of PPE supplies, some resorting to reusing 10 day old masks while handling patients in crowded hospitals. We knew that more had to be done, and ordered 20,000 additional masks yesterday afternoon to send out. As the night has gone on, so have the messages, showing us that more must be done. 
Despite our best efforts, there is a very limited amount of masks we can buy purely on our own, so we thought, we must bring in more resources to make this effort bigger.  Front line medical workers are saving lives w/o the proper protection, they deserve more especially if we have the source to bring these N95 masks to them.
We would like to call our customers and fans into action to join us in this effort of getting critical medical protection supplies, such as N95 masks, to our healthcare workers on the front lines across the US. 
With a single donation of $1.50, you can help supply one doctor or nurse with life saving PPE for another shift while they work hard to provide medical attention to those in need. If you are so kind to donate more, we at 034Motorsport would like to thank you even further, by offering a 5% discount for any retail order placed on our website for donations over $20. If you donate $50 or more, we will happily provide you with a 10% discount on any retail order you make with us during these difficult times. 
All donation proceeds will go towards the procurement and delivery of N95 masks to be sent to medical centers in need. If you or a loved one are in dire need of N95 masks at a medical facility you work in, please message us or email social@034motorsport.com with shipping information and we will do our best to send supplies. 
Our hearts go out to those who have become ill, or lost their lives to this horrible disease, and to those who have become ill or died trying to save others. We make automotive performance products, we don't save lives. Together, we can help the brave men and women across this country that do.
GoFundMe link: https://www.gofundme.com/f/034motorsport-n95-fundraiser
Sincerely,
Javad Shadzi and the whole 034Motorsport Family
*Terms & Conditions: Must email contact@034motorsport.com with a valid GoFundMe donation receipt to redeem the listed order discounts. Only orders placed by retail customers are eligible for discount. The discount is valid for the total sum of one order. A subsequent donation will make you eligible for another coupon code, but only one code can be used per order. All proceeds of the GoFundMe campaign will be used only for the procurement, and delivery of N95 masks to medical centers in need.*