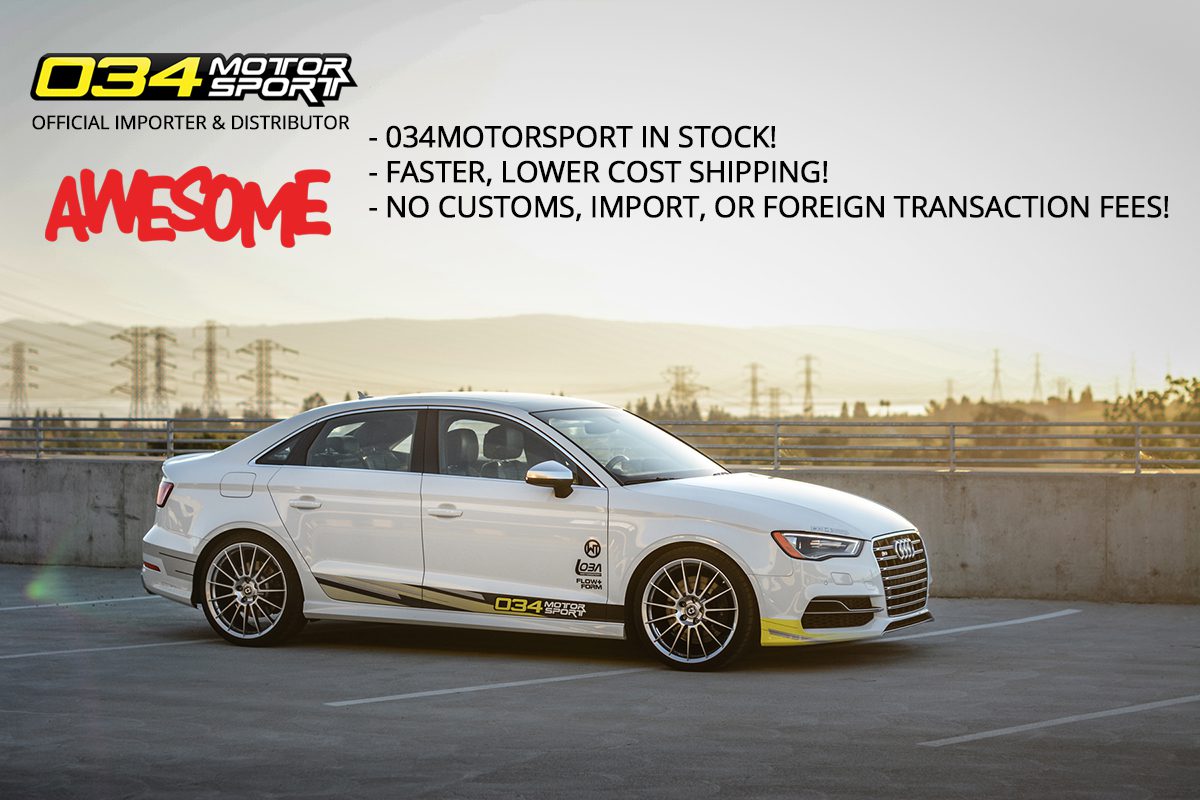 Press Release
July 27, 2017
Manchester, England, United Kingdom
034Motorsport is excited to announce a new partnership with Awesome, Ltd,  establishing them as the official importer, distributor and retailer for 034Motorsport products in the United Kingdom. Retail and wholesale customers in the UK will now be able to get 034Motorsport Go-Fast Parts even faster, without the shipping transit-time and cost often experienced when ordering from across the pond in California, USA.
"As we grow globally, we need great international partners, especially in strong VAG markets such as the UK. We partnered with Awesome for their strong dealer network, commitment to be in-stock, warehouse capacity, shipping proficiency and amazing passion and dedication to the UK VW/Audi aftermarket in offering fantastic customer support and service. Over the years, they've been great partners in helping us address the rest-of-world (ROW) market, ensuring we bring relevant go-fast-parts to those in the UK where models differ from North America, especially as it applies to RHD configurations and Skoda/Seat applications," states 034Motorsport's Global Director of Sales, Troy Sicotte. He continues, "It's simply a perfect match! Everyone here at 034Motorsport is extremely excited to work with the team at Awesome to grow the brand in the UK!"
"Awesome has been around since 1989, and was founded from a hobby that ran away with itself! Fast forward to 2017 and we are bigger than ever before," explains Mark Ash, Managing Director-Owner, Awesome, Ltd. "We are still a group of VAG enthusiasts who only want the best products for our customers followed up with the best service we can offer. We are exclusive importers and distributors for some of the most well-known and sought after brands worldwide, such as 034Motorsport! We hope we are able to help your needs, and if we aren't we would love to speak to you to see if we can. Don't hesitate to contact us!" On 034Motorsport he states, "Whether simple or complicated, 034Motorsport products always hit their mark and that is why we chose to pursue 034Motorsport to become the importer for the UK. I am always excited to see new 034Motorsport CNC precision parts coming through. The quality of these parts has always been excellent, and as a fan of engineering and CAD, I love to see the development process."
If you live in the greater United Kingdom and are a dealer or retail customer, you can now save time and money when you order 034Motorsport product from Awesome directly. Avoid the hassle of waiting for parts to clear customs and support a local business in the UK while feeding your inner petrolhead at the same time!
Email: sales@awesomegti.com
Phone: +44 (0)161 776 0777
Fax: +44 (0)161 776 1777
Website: www.awesomegti.com/shop-by-brand/034motorsport
Address: Unit 1 Siemens Road, Northbank Industrial Park, Irlam, Manchester, M44 5AH, UK